---
Glory
---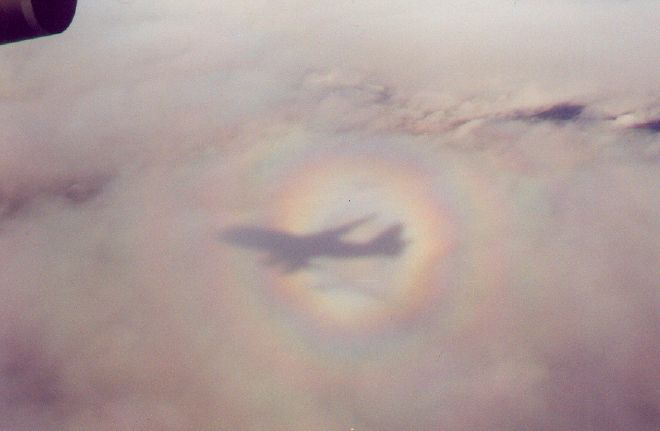 Glory [Harare, Zimbabwe, June 2001; Canon AE-1 SLR]
Chris spotted this from his window seat on a jumbo jet on the way to Lusaka in Zambia in 2001 ... which involved flying past Zambia to Harare airport first.

Glories aren't usually seen from the ground, as you need to have the sun directly behind you. Until people started flying around the only way to see them was from a mountain looking down into fog; the effect is related to the 'spectre of the Brocken'. They're very easily seen from aeroplanes, though.

You can occasionally get a similar effect on dew in the early morning. If you look at the shadow of your head on wet grass, you can sometimes see a sort of halo around your head.

Here's a question for you: where was Chris sitting in the plane?
Image details

---


Photographer: Chris
Original image: June 2001, above Harare, Zimbabwe * scanned from a print
Camera: Canon AE-1, 50mm lens
Photodesk processing:
30% saturation boost
a touch of equalisation adjustment to boost the contrast
---
© 2002 Lee Montgomerie / Chris Terran
All images are copyright and may not be reproduced without permission
---